21/03/2023
therapie LEIPZIG
Trade Fair Programme at therapie LEIPZIG 2023 Features Numerous Highlights
An attractive range of exhibits covering all areas of daily therapeutic treatment awaits trade visitors from 4 to 6 May 2023 at therapie LEIPZIG. On all three days of the event, exhibitors and professional associations will bring the trade fair to life with a total of 150 dedicated contributions. The congress programme is accompanied by product presentations, lectures and activities that promote the transfer of knowledge and provide additional further education opportunities.
Exhibitors and trade associations at therapie LEIPZIG are contributing a wide range of items to the event as well as offering personal conversations at their stands. At no additional charge, they are holding company presentations and workshops to share practice-oriented manufacturer information and discuss the latest trends and innovations in the industry.
Strengthening Children's Backs: Special Exhibition: "Campaign for Healthier (Children's) Backs"
A glance into any orthopaedic waiting room is enough to see that back health is an important issue for children and teenagers. The "Campaign for Healthier Children's Backs" ("Aktion Gesunder Kinderrücken") was created to promote back health among youngsters. The initiative is a joint undertaking of the German Federal Working Group for the Promotion of Posture and Movement (BAG) and the Campaign for Healthier Backs (AGR).
Around 20 companies and brands are joining AGR to make the topic tangible at the special exhibition entitled "Campaign for Healthier (Children's) Backs". Visitors can expect to see proven back-friendly product solutions ranging from baby carriers to school bags, desks, chairs and vehicle safety seats as well as concepts to inspire people to lead a much more active life. The product presentations are combined with participatory sessions in the Demonstration Area. Here, visitors have the opportunity each day to strengthen all their back muscles with various types of weight training and endurance exercises.
Six Different Specialist Forums Offering Expert Knowledge
Six lecture forums are integrated into the trade fair, providing content that bridges the gap between the new products and services on show at the event and their use in therapeutic practice.
In keeping with the focus on neurorehabilitation at therapie LEIPZIG 2023, the "Neurorehab & Orthopaedics" forum is dedicated to the newest rehabilitation procedures and methods. The main goal is to enable patients to return to work and daily life. Technologies on display include exoskeletons and exosuits used in the treatment of paraplegics and in walking therapy for stroke patients.
The "Medical Fitness & Wellness" forum is focusing on the use of Cannabidiol (CBD) in therapy, acupuncture massage according to Penzel and incorporating pilates in physiotherapy. At the "We Are Therapy" forum, visitors can look forward to a wide variety of sessions including "Laser Therapy for Muscular Complaints", "The Advantages of Telematics Infrastructures" and "Quality Management for Practices".
The "Management" forum takes a look at successful practice management. Topics under discussion include self-employment and how to get there, franchises in physiotherapy, tax optimisation and practice succession on retirement. Burning current issues such as the shortage of skilled labour are on the agenda in the Bucher Business Lounge with speakers from Buchner & Partner GmbH. The latest findings in osteopathic treatment are in the spotlight at the "Osteopathy" forum, initiated by the German Association of Osteopaths (VOD).
In Dialogue With the Professional Associations
The member associations of the Umbrella Organisation for Professional Healthcare Associations (SHV) welcome visitors to join them for a podium discussion on 5 May entitled "The SHV in Practice". The debate aims to cover the most significant topics affecting healthcare practitioners today. A collective stand is hosting PHYSIO DEUTSCHLAND, the German Association for Physiotherapy (VPT), the German Association of Independent Physiotherapists (IFK), the German Association for Academic Speech Therapy and Logopaedics (dbs) and the German Association for Occupational Therapy (DVE). Attendees to the trade fair can find information here about the goals and achievements of these professional associations as well as specific answers to questions that arise in daily practice on topics such as invoicing, COVID-19 regulations and current political developments in the profession.
Welcoming the Future to Leipzig
therapie LEIPZIG offers a special platform for young entrepreneurs. In the Start-Up Area, young companies offering new solutions for therapy, medical rehabilitation and prevention have the opportunity to present their innovative products and services to an expert audience and give their market entry some additional impetus. Besides booking a stand in the general Start-Up Area, these companies can also present themselves and their products in the "Start-Up Quickshot Session" at the "We are Therapy" forum.
Putting Daily Practice into Practice – Visitor Activity Area
In the activity area, exhibitors can demonstrate the practical uses of their latest products and invite visitors to test them. Low-intensity exercises including fascia-loosening training, yoga sessions and an effective stretching method for fascias, muscles, ligaments and joints alternate with more athletic exercises such as jumping on trampolines and coordination training.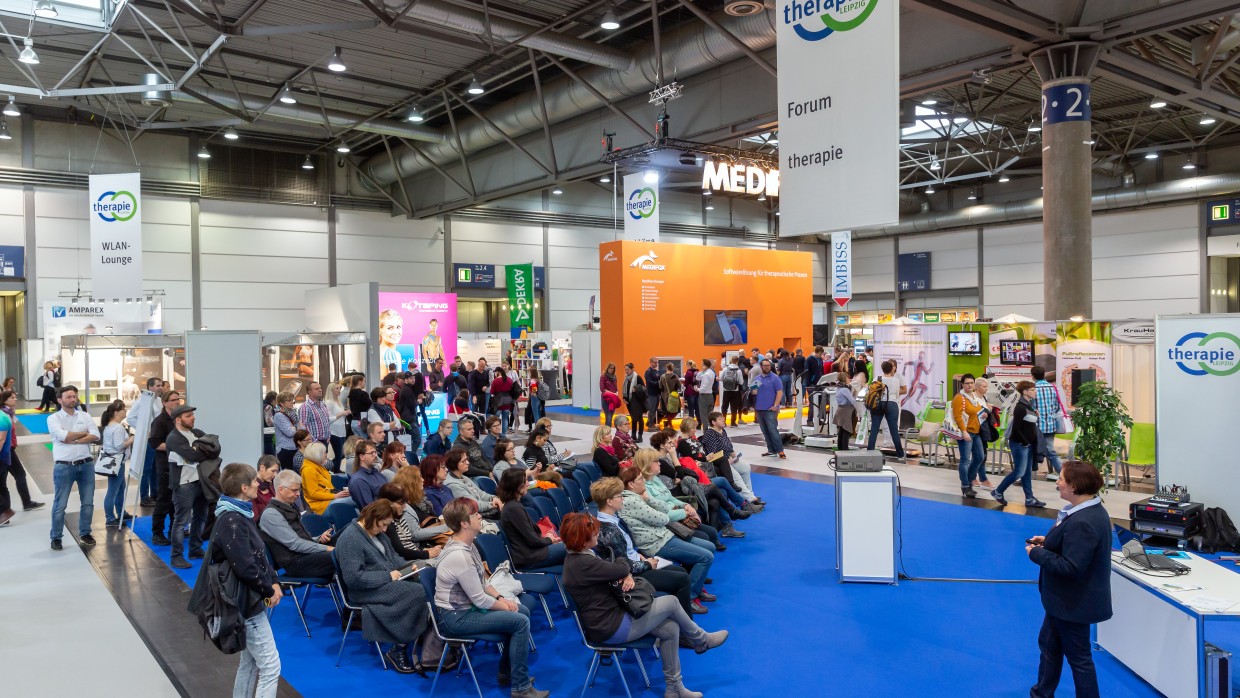 Back to all news