08/05/2023
therapie LEIPZIG
ENTHUSIASTIC VOICES FROM THERAPY LEIPZIG 2023
"The exhibition was packed, the atmosphere was great, people were enthusiastic - therapie LEIPZIG was super successful for us!" The exhibitors were satisfied all round. Discover what Zimmer, opta data, Proxomed, crosscorpo and others have to say about therapie LEIPZIG 2023.
Ludwig Artzt: Open to New Ideas
David Niessing, Head of Sales and Marketing, Authorised Signatory, Ludwig Artzt GmbH: "therapie LEIPZIG went very well for us and even exceeded our expectations. The trade fair reflected the highly positive mood in the industry and showed that we all want to meet up again, talk to each other in person and develop new ideas – everyone's interested in new topics. We're very satisfied with the visitor response. We were spot on with our focus on neurocentric training with workshops to accompany the congress, so we generated plenty of demand. On the traditional 'schools day' on Thursday, we were thrilled by the high level of interest shown in our information and products by the next generation of professionals. The young people not only looked at the products but also bought some. therapie LEIPZIG will continue to be a significant industry get-together for us in the years to come. After all, it's vital for our products that they are displayed and demonstrated."
Buchner & Partner: Tremendously Positive Mood
Mathias Hansen, Head of Sales at Buchner & Partner GmbH: "The type of visitors and the range of exhibitors ensure therapie LEIPZIG is always a highlight for us. This year it was once again a very harmonious gathering. We were pleased with the extremely positive mood at the event, which could also be felt in all the conversations we had at the trade fair. therapie LEIPZIG succeeded in carrying on where it left off before COVID-19. There was a particularly high level of interest in our joint pilot project together with the TK Health Insurance Fund to introduce electronic health provision statements to enable paperless invoicing. Telematics, digitalisation and paperless clinics are very big issues for therapy practitioners. We could tell they were really hungry for information by the tremendous response to our lectures, which were always full. We invested a great deal in presenting our company at therapie LEIPZIG, with more than 20 staff at the event as well as those in the back office, and we're expecting positive results for our entire portfolio. We're already looking forward to May 2025 because Leipzig is and will remain a beloved place to do business. Besides sharing information here, you can also make some very good sales."
crosscorpo: Superbly Successful
Michael Höner, Executive Board Member at crosscorpo GmbH: "The exhibition was absolutely packed, the atmosphere was fantastic, the visitors loved it – therapie LEIPZIG was superbly successful for us! The trade fair was just the right place to not only present our Total Gym and Sensopro equipment for functional training and coordination, but also to demonstrate them in action and let people join in by trying them out. The whole event was so much fun because it showed we're not the only ones who love our products – the therapists also loved testing them. It was always ever so busy at our stand! Thanks to the positive mood in the industry and the amazing feedback, we are expecting to do good business. We will definitely be back."
EGZOTech: The Power of Technology in a Real-Life Demonstration
Nils Kindervater, Business Development Manager, EGZOTech Sp. z o.o.: "We already had a positive experience at the premiere of the "Neurorehabilitation Live in Practice" special exhibition, so we decided to take part in it again this year. And we have no regrets! This special exhibition offers us the opportunity to realistically demonstrate what our technology can achieve in supporting patients and therapists. For example, we presented our robotic Luna EMG for the early phases of neurological and orthopaedic rehabilitation of the upper and lower limbs. We got tremendously positive feedback from the trade visitors! The upcoming generational change in the therapy industry is creating new opportunities because the new generation of therapists is very open to modern high-tech treatments. Occupational therapy in particular is making real progress here, as many occupational therapists have recognised that they can achieve very good results by using robotics and are equipping their practices accordingly. Currently, occupational therapy practices are overtaking physiotherapists in all things concerning modernisation, forward-thinking and technical equipment. This was very obvious in the conversations we had at therapie LEIPZIG."
Evomotion: Developing New Ideas
Lina Steinmeier, Sales Manager North Germany, Evomotion GmbH: "For us, it was an experiment to come to therapie LEIPZIG. We're aiming to establish ourselves in the industry and get practitioners interested in using functional electrical stimulation (FES) in therapy, as well as hoping to develop new ideas. Our talk attracted especially large numbers of visitors to our stand and resulted in some very good conversations. This showed us that therapists are ready and willing to try new treatments and start implementing new concepts. Now we're looking forward to working on the follow-up to the trade fair. Our plan to put our company on the map and make some interesting contacts has certainly worked".
opta data: Fantastic Progress
Nils Höges, Head of Sales & Marketing, Therapy Industry Business Division, opta data Finance GmbH: "Being at therapie LEIPZIG is like coming home. It's an absolute customer magnet, but it's more than just that. High-profile professionals travel as much as 300 km to get here and the industry has once again spared no expense and invested in attractive stands to present its highlights. Even the soft skills are well done, and the Leipzig Exhibition Centre is one of the most beautiful event locations. We launched our new invoicing software and were right on target with the visiting therapists, as digitalisation and telematics infrastructure integration (TI) were top of the list of topics under discussion in Leipzig. There was always plenty happening at our stand. Everyone was happy they could meet normally again, actually see the products and network within the industry. therapie LEIPZIG has made fantastic progress. We were very impressed and are looking forward to the next edition. It's such a shame it only takes place every other year".
proxomed Medizintechnik: Very High Visitor Quality
Marcus Melching, CEO, proxomed Medizintechnik GmbH: therapie LEIPZIG and the corresponding events in Hamburg and Düsseldorf are major trade fairs for us because our products are focused entirely on the therapy and medical markets. Especially after the pandemic, it was very clear how important therapie LEIPZIG in particular is for us and for networking in the industry. We invested in additional space and a more attractive stand and we really benefited from the upgrade. Last but not least I can certainly say that it's worth coming to Leipzig because it draws in trade visitors from all over Germany. We brought a team of 14 from product management, product training and sales here to launch our new generation of software. Many clients, from independent practices to buyers and therapists working in clinics, came especially for this. We met just the right type of customers here. Visitors were highly qualified, interested and looking to make big investments. We're expecting to do good business after the trade fair as a result – as we always have done in Leipzig. We've already decided to come to the next edition of therapie LEIPZIG. The focus of the event makes it more important to us than MEDICA".
THERA-Trainer: Pole Position for New Technology
Alexander Kamps, Head of Sales Germany, THERA-Trainer by medica Medizintechnik GmbH: "The 'Neurorehabilitation Live in Practice' special exhibition put us in a pole position with our equipment because visitors could experience the practical applications for themselves. A presentation like this with real patients and real therapists who actually achieve proven therapy effects is truly something special. What's more, the trade visitors to therapie LEIPZIG were looking for modern equipment for their practices. And this trade fair offers all that in a very compact format. Anyone looking for information on therapy equipment has to come to Leipzig. The special exhibition is an additional highlight because if you're going to treat the growing number of seriously affected patients, you've got to use modern technology."
Zimmer MedizinSystems: A Professional Trade Fair for Physiotherapy
Armin Zimmer, Owner and Managing Director, Zimmer Group: "therapie Leipzig is the most professional trade fair of all for physiotherapy. Here, everyone shows what their products can do and this is much appreciated by the visitors. We know what we're talking about because our company operates globally and we take part in specialist events worldwide."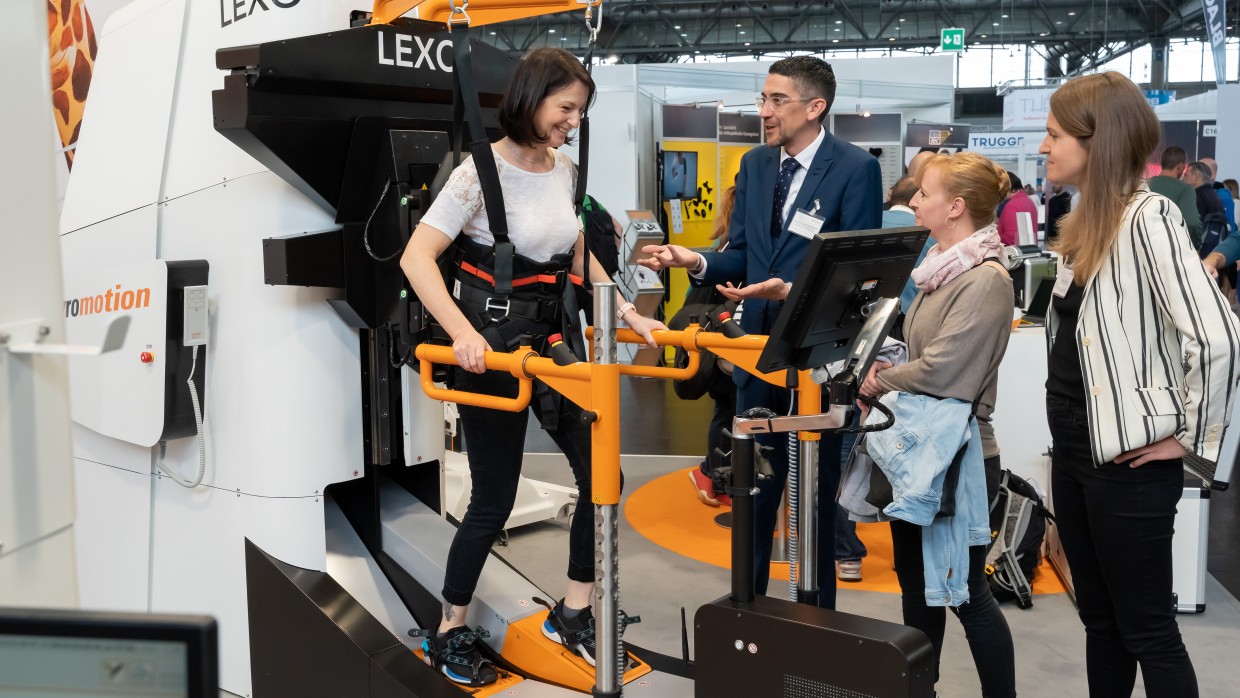 Back to all news